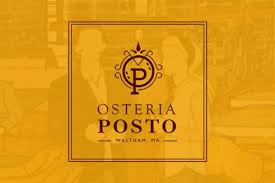 Our name derives from the Italian word meaning a restaurant serving wine and simple food, "osteria," and the Italian phrase meaning to sit and relax, "posto." This approach to heartfelt hospitality and thoughtful food characterizes our take on today's Italian steakhouse. We serve composed Italian dishes featuring locally sourced meat and seafood, homemade pasta, small bites, and seasonal flavors.
Urbane eatery with banquettes & unique light fixtures for chops, raw-bar eats & eclectic pastas.
Address:
99 Third Avenue, Waltham, MA 02451
$50 gift certificate can be used at any restaurant in the Alpine Restaurant Group including Posto, Painted Burro, Rosebud and Osteria Posto.